The Clivia enthusiast who got away
by Michael Barrett
In the course of researching Clivia and the personalities and history of this genus, I have observed that many wellknown names connected to Clivia, were at essence, plantsmen interested in a wider variety of plants from all over the world. In documenting George Keith Cowlishaw (Vol. 6.2), Sir Peter Smithers and Sir John Thouron (Vol. 8.3), and most recently, James Dearing and Fred Pollard (Vol. 10.2), Clivia were but part of a marvelous array of plants grown. For some gardeners, Clivia did not take hold of their time, energy and imagination in the same way as others, and I will present over the next few newsletters, a few names, and their plants of choice, that are a few degrees of separation away from the better-known personalities in the history Clivia.
Many of you are aware that Clivia were also known as Imantophyllum, as named by William Hooker (Curtis's Botanical Magazine 80: t. 4783, 1 May 1854, 'Imantophyllum miniatum'). On the National Library of Australia's Trove, I discovered an article referring to Imantophyllum and a famous Victorian daffodil grower, Leonard Vine Buckland, and thus my research journey began.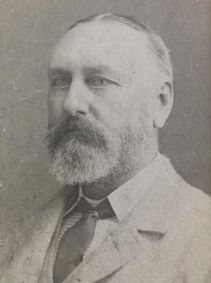 The Camperdown Chronicle of 22 September, 1923 (p. 2), citing Courier reports on the Ballarat Daffodil show of September 1923 observes: "Looking down the stand were shown for the first time in Victoria, five types of the Imantophyllum, which were introduced to Australia by Mr L Buckland from Beach's London." One can imagine the reporter misheard the name of the nursery. Bill Morris wrote in Herbertia (1998) that Arthur Yates & Co., and possibly Mr Cowlishaw, had imported Clivia from the wellregarded Veitch's Exeter nursery prior to 1923 (Veitch & Sons operated from two locations, but their Chelsea nursery closed in 1914).
There are earlier references to Imantophyllum in Australia from as far back as the 1870's. Perhaps Mr Buckland had plants from the same importation as Yates, or had some shipped separately. The September 22nd 1923 date points to these plants being most likely Clivia miniata, and there must have been some differences in flower shape and markings. After this newspaper report there is little information about Mr Buckland and Clivia directly, but he certainly mixed in esteemed horticultural circles and would have competed in competitions in 'friendly rivalry' with Mr Alister Clark (the famous Australian rose breeder, and fellow daffodil enthusiast) and Mr James Dearing of Rippon Lea.
Leonard Buckland was a solicitor in Camperdown, Victoria. He is believed to have imported King Alfred daffodils into Australia. Buckland is credited with introducing many new hybrid seedlings, winning many major awards, and was regarded as a very successful grower. Museum Victoria holds in its collection, the Geelong Horticultural Association Daffodil Cup. Mr Buckland won it three times, and it was given to him His grandson donated it, and three presentation cups to the museum. In 1905 Mr Buckland joined the Camperdown Public Park committee (as the Camperdown Botanical Gardens were known as then) and is credited with introducing rainbow trout to Lake Bullen Merri, to boost a tourism and recreation drive the committee continually promoted. (https://collections.museumvictoria.com.au/)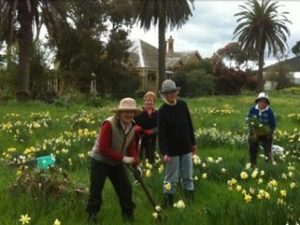 A keen fisherman and hunter, Buckland died from the accidental discharge of a firearm while on a hunting trip in 1930. In 2014, members of the Camperdown Botanic Gardens and Arboretum (CBGA) Trust dug some 30 varieties of daffodils from Buckland's homestead, Keyham, to start a commemorative planting in the Camperdown Arboretum. Janet Ohehir, President of the CBGA wrote, "A catalogue of Buckland's daffodils was found and we began to identify the plants. Unfortunately, this plan was thwarted when Corangamite Shire Council made a decision to lease that section of the Arboretum for cattle grazing. It continues to be leased. The bulbs were then planted in a 'holding bed' next to the Botanic Garden…"(Private correspondence).
The Ferny Creek Horticultural Society's Spring Show 2016, had the RHSV Leonard Buckland Memorial Trophy for best exhibit of six distinct red/orange centred daffodils.