August speaker – Peter Hey
Friday August 16th, 7.30pm
Burwood Uniting Church, cnr Burwood Hwy & Blackburn Rds, Burwood.
Topic: Symbiotic relationships – Fungi and plants, plus Clivia and rare plant and a small segment on the Clivia Society of NSW
Clivia and Rare Plant breeder, hybridist
Born – Sydney
Educated – Sydney, London, Sydney
Experience – Finance/Training, Civil contracting/Landscaping, Horticulture/Nursery Industry
Personal interests – Painting/sculpture, golf, writing, rare plants and plant breeding
Of interest – Foundation member Landscape Contractors Association of NSW. Past president Rotary Club of Maroubra Inc. Foundation member Clivia Society of NSW Inc (current president). Past member IPPS, member NGINA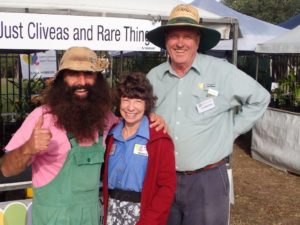 Personal statement – my interest in plants goes back as far as I can remember, stimulated by a double headed Iceland poppy as a child, nurtured at Austen's Nursery Kirrawee as a weekend casual working with Old Jack in the propagation area then a ten year period in civil and landscape contracting. Challenged by Christmas Bells and Melaleuca alternifolia at our Mid North Coast property. A stroke (CVA) in 2005 left me without hope, breeding new Clivia cultivars gave me hope and has helped me make a full recovery. Extreme curiosity. Patience, Research & Innovation.