Simon Rickard – the roving gardener
Friday 17 August 2018 at 7.30pm
Compiled by Michael Barrett
At the August meeting Simon Rickard took us on a slide show rollercoaster tour of some of the countries and gardens he has visited as a guide with Botanica World Discoveries. Simon has led small group tours since 2005, and has revisited the same locations in different seasons. He enjoys the common interest shared within the group of garden lovers, and delights in sharing his deep plant knowledge with others. I wanted to just enjoy his presentation, and did not take notes, but will do my best to convey some the impressions I took away.
Simon explained the various social, cultural, geographical and environmental influences to better understand the gardens he showed. Starting in the Netherlands, and reminding us of the population of 17 million people squeezed into a land mass the size of Tasmania, Simon covered the history of the merchant trading country, where trade in all things, including bulbs, is rich in history and broad in scope. Simon explained that the deep sandy soils were ideal for plant breeders to hybridise the carrot, from a purple vegetable into the well-known orange colour we have today, as a patriotic honour for the royal family, The House of Orange.
We were also shown the baroque gardens at Het Loo Palace. Unlike other gardens of this style, this is a relatively young garden, so the scale of the plants is as it was designed hundreds of years ago. The nation's fascination with bulbs, including tulips and cut flowers, has become both a symbol of the country, and with the flower auctions
in Aalsmeer, operating under the largest undercover single level building complex in the world, it is the epicenter of cut flowers. Simon explained that like food, flowers also have 'flower miles' where products, even some ingredients in the bunches at the local petrol station and supermarket, are grown in one country, go to the sales centre in Aalsmeer, and are then shipped out to another country all in a matter of a day (roses from Africa are a case in point).
We were shown the splendor of Floriade, a huge floral exhibition and extravaganza that is held every ten years and coordinated by the Dutch Horticultural Council. The gardens were seed planted in tapestries of airy mixed colours and plantings, one shown included oats alongside annuals not yet available here in Australia. Simon showed the work of the hero of the so called 'new perennial movement', Piet Oudolf.
We quickly moved onto the British Isles. Here Simon underlined that many Australian and New Zealand gardeners had been trained to view these gardens as our romantic inspiration. Simon highlighted the Arts and Crafts style of gardening, where teams of highly skilled gardeners would work to create vast long borders, designed to have long seasonal interest, using scale, timing of flowering, and colour harmony to great effect. For Simon, the trinity of gardening virtues came in the combinations of great design, plantsmanship and husbandry. Two gardens that exemplified this combination of skills are Great Dixter and Sissinghurst. We were also shown The Lost Gardens of Heligan and the Eden Project in Cornwall, where the mild climate allowed a vast range of plants to thrive.
We then headed north to the wetter conditions of Scotland. Simon amused us by explaining the shift from euphoria and fascination to complacency, by citing the reactions to the Himalayan blue poppy, Meconopsis betonicifolia. He shared the way at first, a single plant was such a fascination and people struggled to get in quickly to photograph it. Later as the tour group headed north, the roadside was lined with poppies and interest had faded. It really highlights how those things we cannot grow hold our fascination, and despite not having the right conditions to grow them, we try as gardeners to hold on to hope. Remember, right plant, right location!
Next we visited Japan, and all our understandings and preconceptions had to be left at the garden entrance. We were also shown the symbol for no entry to a garden, a rock with twine wrapped over it. No sign required. Simon reminded us all that the gardens and indeed the culture of Japan had developed in isolation over centuries. This history and the traditions are deeply respected and honored.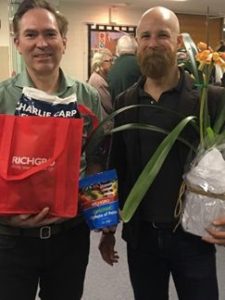 These gardens couldn't be understood with a Westerners' gaze. Asymmetry is valued over symmetry. The design of gardens was not about blousy flower beds, but more about spaces for spiritual contemplation, and not something to be walked about. The Buddhist concept of wabi-sabi was explained where the aesthetic incorporates, the 'imperfect, impermanent, and incomplete'. Everything was ordered, refined and then any extraneous element removed, and then this process repeated. As is in Ikebana, space and a pause are a part of the design and actual design process, not something to be filled. The use of space allows other elements to flow and room to breathe. This principle is called Ma. This 'empty' space is also referred to as 'negative space'. This process reduced some 'gardens' to a dry landscape of rocks and moss. We were shown the late 15th century Zen garden of Ryoan-ji. Simon made reference to other gardens where flowering azaleas that were pruned just before flowering, so only a part flower, part foliage display was achieved. Simon was adamant that the only place to see Japanese gardens was in Japan, as 'us Aussies' see all that empty space and want to fill it up and add a few more flowers.
We were, of course, shown the famous cherry blossom in Kyoto. Simon explained the main variety of blossom planted is a simple flower, and not what we might think of as the best blossom to see, perhaps more a deep pink and double.
Our tour concluded in New Zealand. Simon reminded us about the conditioning we have had to view British gardens and design. We were shown interesting private gardens where one repeated Sissinghurst's white garden but in red flowers and foliage. We also saw the long boarders of the UK repeated in style and design, but planted with NZ native plants. Simon noted the geological youth and richness of NZ soil, in contrast to our soil here in Australia. He concluded they could grow 'just about' anything there. We finished with images and descriptions of the high altitude, mossy forest of the Fiordland.
Time ran short and we missed South America, and the south of Western Australia. Simon's tour went far too quickly as we enjoyed every minute. His rich vocabulary was a delight to listen to, and his humor infectious. I would highly recommend a real tour with Simon as the guide!
Simon Rickard is a passionate gardener and plantsman. He was head gardener at the Diggers Club until 2009, overseeing the magnificent gardens at Heronswood and the Garden of St Erth. Simon worked as a market gardener until 2012, growing bespoke produce for Annie Smithers' Bistrot in Kyneton. These days Simon runs his own garden consultancy and coaching business. He leads garden tours for Botanica World Discoveries and delivers lectures and workshops for, amongst others, the Australian Landscape Conference and Burnley College's perennially popular Discovering Horticulture course. Simon has written two books, The New Ornamental Garden (2011) and Heirloom Vegetables – a guide to their history and varieties (2014), with more on the way as soon as possible.
Somehow, Simon finds time to lead a parallel life as a musician, playing principal baroque bassoon for Pinchgut Opera.