The Melbourne Clivia Group held their Annual General Meeting on Friday 17th Feb 2017. The newly elected committee consist of:
Michael Barrett – President
Yvonne Hargreaves – Vice-President
Roger Clarke – Secretary
Chee Perks – Treasurer
Rae Begg / John Trotter – Committee members
The MCG look forward to another successful year in 2017. Thanks to the outgoing committee members for their service to the group.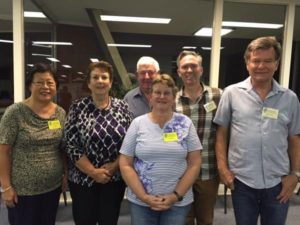 From left: Chee Perks, Yvonne Hargreaves, John Trotter, Michael Barrett, Roger Clarke
Front: Rae Begg