Read the Melbourne Clivia Group Statement of Purpose.
Orange-flowering Clivia – principally Clivia miniata and sometimes the semi-pendulous Clivia x cyrtanthiflora (also mislabelled as C. nobilis) – have featured in some of the main Australian botanic gardens (such as Melbourne, Sydney and Adelaide in particular) as well as in the gardens of old homes for a long time in this country. Having been discovered in South Africa and sent to the UK and then to Europe in the latter 1800s, Clivia are a relative.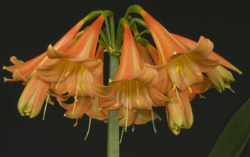 What is less known is the immense progress which has been made during the past two decades or less in the hybridisation and, to a much lesser extent, the commercialization ofClivia.  New colours such as yellow or cream, deep red, pastel, peach, and green are now bred along side beautiful bicolour, picotee and other patterned flowers. New flower forms such as multipetals and doubles which have many more petals than the regular six-petalled flower are also to be found, as is an expansion of the types of variegated leaves bred in Clivia. Recent breeding attention has also focused upon the production of broader leaves and shorter, more compact plants.ly well-known plant in many countries, largely because of their adaptation to a variety of climates, their toughness, their suitability for growing in areas of dry shade and ease of propagation.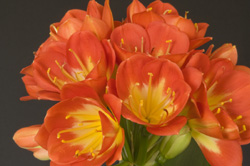 While the genus only consists of six species, the sixth one just discovered 10 years ago, also of increasing interest are interspecifics, which involve crosses between two species (or intraspecific hybrids). Since the well-knownClivia miniata is the only species to have trumpet flowers and the remaining five all have pendulous ones, interspecifics exhibit broad variation in flower shape, colour and coloration patterns. Importantly, if we possess a variety of combinations of interspecifics, we can enjoy year-round flowers in areas such as Melbourne.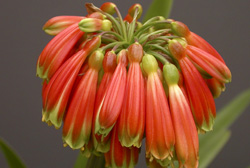 A small number of specialist Clivia groups have sprung up in certain countries, including South Africa where the predecessor of the current Clivia Society was a Clivia Club, established in 1992. More recent years have seen the establishment of the North American Clivia Society, the New Zealand Clivia Club as well as the Japan Clivia Society and various groups in China and elsewhere. The first incorporated group in Australia commenced in Toowoomba, and was followed by the commencement of the Melbourne Clivia Group Inc. in late 2008.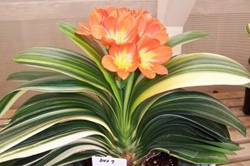 The MCG has now organised five successful CLIVIA EXPOS in September since 2011 and then annually with our recent expo  September 2015. At these events a variety of activities were available, including an impressive display of plants and flowers in the main hall, along with demonstrations of pollination and propagation methods, and sales of plants outside.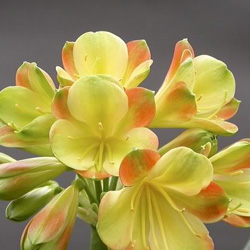 Although the association is based in Melbourne and relies strongly on those members who are able to attend the regular meetings, some other members are spread throughout Victoria and a few reside interstate, with a small number of overseas members as well. Meetings are held at the Uniting Church, Burwood on Friday evenings from 7:30 (breaking for supper at 9:15). These meetings are bimonthly between February and June, and then monthly between July and October or November.
This website also contains items of interest to growers of Clivia, especially the gallery which shows some of the new kinds of Clivia now being bred. The group produces a bimonthly newsletter and some members are available to give presentations at other garden clubs. Please contact us if you would like to recruit a member for this purpose.
You are most welcome to make contact with us or to join us at one of our meetings.  The schedule for the remainder of the year is available on this website.
Helen Marriott